Secure voice communication
Inta offers technology and solution to eliminate the risk of voice traffic intercepts.
Overview
Secure Voice Communication application integrates with microSD encryption card, a hardware-anchored microSD encryption engine, to create a fully secure voice encryption solution for mobile platforms, such as iPhone, Android, and Blackberry.
Cryptographic hardware and proprietary software combine to eliminate the risk of voice traffic intercepts both over the air and across the carrier infrastructure.
When an encrypted call enabled phone calls another enabled phone, the devices transparently and seamlessly authenticate and connect. All voice communication is then encrypted and sent over a secure data channel.
In order to establish safe communication only two steps are required to be made: installation of secure voice communication App and inserting microSD encryption card into the smart phone. After that you are able to call to other secure voice communication user and be sure that nobody intercepts your phone call.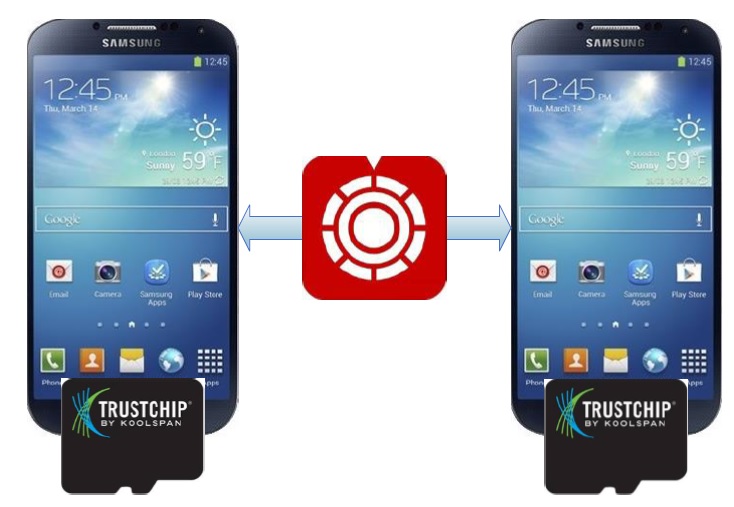 Features

Provides cryptographic chip hardware and proprietary software to eliminate voice traffic intercepts;


Functions as a user-friendly application with security and operational flexibility;


Provides secure calls between from mobile devices or landlines;


Can be deployed on a client's network or in a hosted environment;


Can be managed from a central platform to activate and terminate secure communications in real-time;


Requires no special equipment for deployment and is easily removed and reinstalled into other compatible devices;


MicroSD encryption card supports AES-GCM 256 bit encryption algorithm;


Cryptography has been certified under FIPS 140-2 standard by the U.S. National Institute of Standards and Technology (NIST).

Application
Encryption solution can be used both for phone calls and for SMS or data transferong. It helps to protect your company's information by using encryption platform to transform standard mobile networks worldwide into a secure infrastructure. Call encryption requires low bandwidth consumption, approximately 16Kbps, full duplex. The 100 minutes of calling uses about 23.4MB of data. Solution also doesn't increase power consumption of phone.
For more information, please contact:
Donatas Limantas – donatas.limantas@inta.lt; +370 5 212 2080