"VIKING" PILOT PROJECt
Transit cargo control is very important both countries through which cargo are transported and cargo owners. Trans-European rail and road transit corridors cross the areas of Lithuania, Belarus and Ukraine. The main one is East-West transport corridor.
Mixed train "Viking" is the common project of the port loadings companies of Lithuania, Belarus, Ukraine and ports of Klaipėda, Ilyichevsk and Odessa. The train carries containers (20 and 40 feets), semi-trailers, which arrive from the Scandinavian and Western European countries to the port of Klaipeda by sea, as well as through Mukran-Klaipeda ferry and are transported to the ports of Ukraine, Belarus, Middle East, Caucasus through Ilyichevsk and Odessa and back.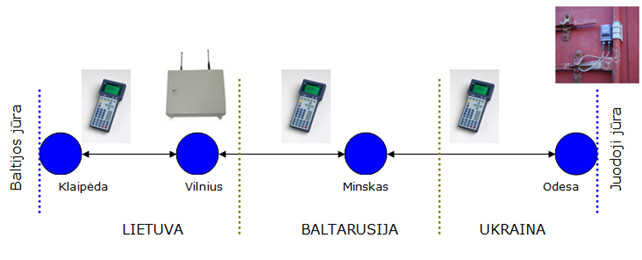 Transit cargo control – is the set of hardware and software that helps to monitor transit cargo from the starting point to the final destination. The main goals of such system:
Transit goods control;

Illegal and smuggled goods control;

Illegal persons control;

Undeclared goods and cargo control;

Hazardous and high-value cargo transit monitoring in real time.
During the implementation of Viking pilot project INTA submitted all the necessary hardware and software and was the key adviser concerning organizational and technical matters.